VOLKSWAGEN VW JETTA TIGUAN PASSAT GOLF 7″ DIGITAL TOUCH SCREEN ANDROID IOS MULTIMEDIA CAR DVD GPS
EONON PLUG AND PLAY MULTIMEDIA NAVIGATION UPGRADE
Select Volkswagen Models
Applicable Car Models & Years:Volkswagen: BORA (2006-2015) / CADDY (2003-2015) / EOS (2006-2015) / GOLF (2007-2012) / JETTA (2006-2015) / LAVIDA (2011-2012)/ MAGOTAN (2006-2012) / NEW SHARAN (2010-2013) / PASSAT (2006-2013) /SAGITAR (2005-2015) / SCIROCCO (2008-2015) / TIGUAN (2007-2015)/ TOURAN (2003-2013) / POLO(2009-2012) / SEAT: ALTEA (2004-2013) LEON (2004-2012) / TOLEDO /(2012-2013)/ SKODA: FABIA (2004-2013) / PRAKTIK (2007-2011) / ROOMSTER (2003-2010) / RAPID (2012-2013) / SUPERB (2010-2012)
Android 7.1 OS, 2GB RAM & strong Octa-Core processor ensures a high speed of response
Split screen mode allows running two apps side by side
Using the newest generation of high-end Allwinner T8 processor.
Compatible with most of the steering wheel control functions.
Support Subwoofer output volume control & Bluetooth Music Info Display
Compatible with Fender System to offer you a perfect integration & better sound quality
GA8153A



Accelerate Your Every
Move with Octa-Core
& 2GB RAM
Designed for Volkswagen/SEAT/SKODA
Allwinner T8 Processor
Android 7.1 Nougat
Split Screen Multitasking
Compatible with Fender System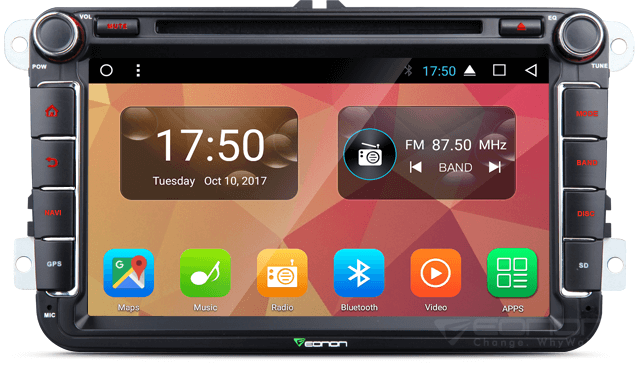 Applicable Models
Volkswagen:
BORA (2006-2015)   CADDY (2003-2015)   EOS (2006-2015)   GOLF (2007-2012)
JETTA (2006-2015)   LAVIDA (2011-2012)   MAGOTAN (2006-2012)
NEW SHARAN (2010-2013)   PASSAT (2006-2013)   SAGITAR (2005-2015)   SCIROCCO (2008-2015) 
TIGUAN (2007-2015)   TOURAN (2003-2013)   POLO(2009-2012)
SEAT:
ALTEA (2004-2013)   LEON (2004-2012)   TOLEDO (2012-2013)
SKODA:
FABIA (2004-2013)   PRAKTIK (2007-2011)   ROOMSTER (2003-2010)
RAPID (2012-2013)   SUPERB (2010-2012)

Applicable Volkswagen OEM radio models 
RCD 210/RCD 310/RNS 310/RNS 315/RCD 510/RNS 510
Inapplicable Volkswagen OEM radio models
RCD 550/RNS 810/RNS 850
(Note: Please confirm the model year, size and shape of the center console panel before purchasing. And consult our customer service first if your car is beyond the scope of application.)
Android 7.1 Nougat
With the newest Android 7.1 OS, you can download any applications in the Google Play to access games, Spotify, YouTube etc., enjoy more possibilities and entertainment. Also Quick Settings function allows you to access what you want faster.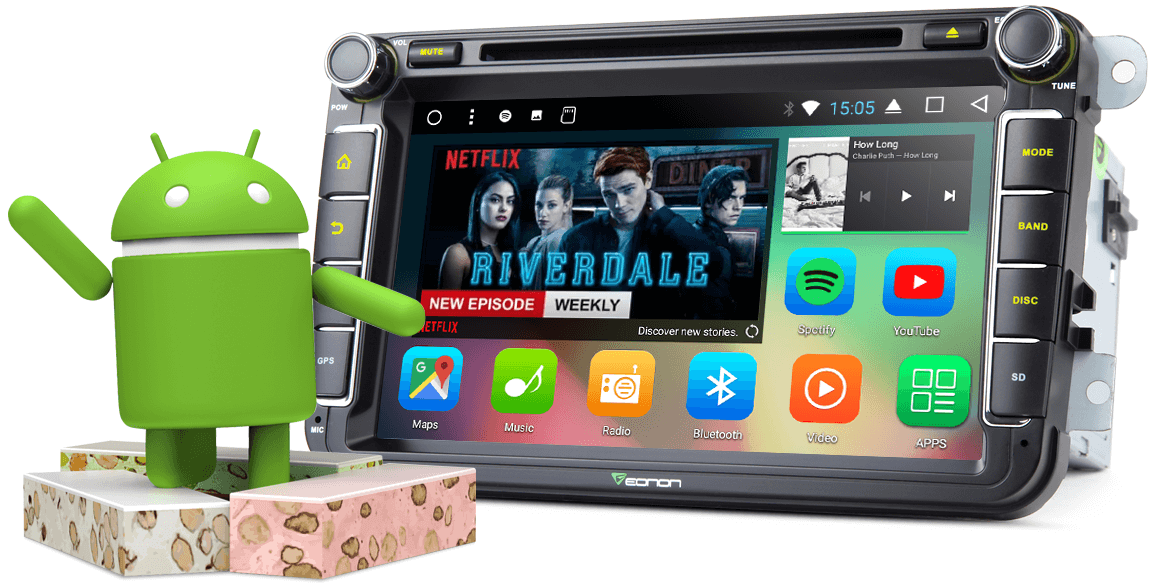 Allwinner T8 with the Best Combination
Using the newest generation of high-end Allwinner T8 processor. With the strong combination of Octa-core, 2GB RAM and 32GB ROM, you can enjoy a ultra-fast response and more fluent experience when running your favorites apps or watching videos. No lag anymore.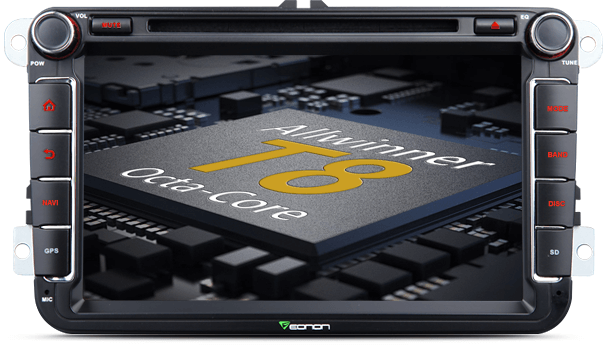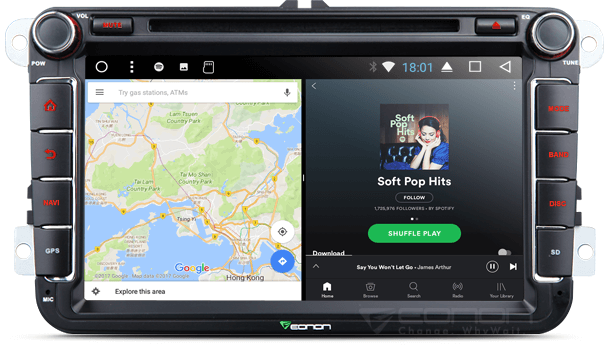 Do More at the Same Time
Split screen mode allows running two apps side by side. You can listen to music in Spotify while navigating, or visit the website while listening to radio.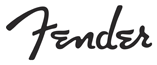 Producing Live Sound
It's compatible with the original Fender system. Giving you a music journey like no other. No modification required, the real plug and play.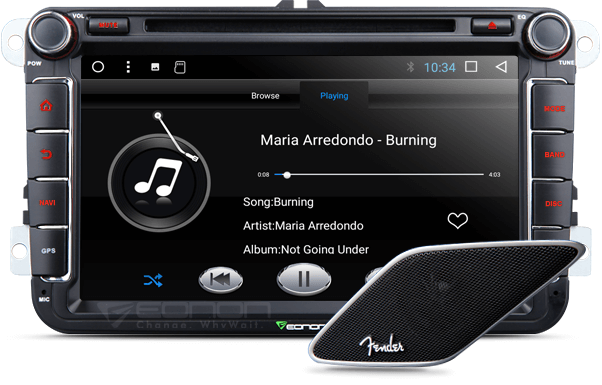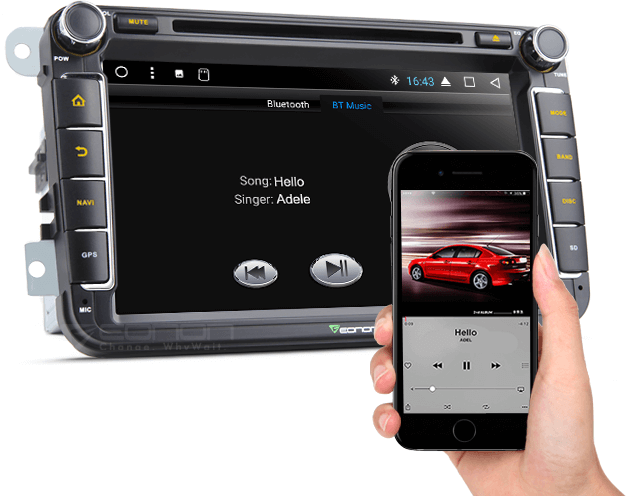 Hands-Free Calling and Audio Streaming
Bluetooth wireless technology helps you can play music from phone apps like Spotify or Pandora, and make hands free calling while driving. Apart from supporting the display of song information and phone book, the head unit also supports searching contacts rapidly.

EasyConnection for More Fun
Any content from Android or iOS smartphone can be mirrored onto this unit screen, so you can watch videos on the bigger display. For Android phone, you can even achieve bidirectional control with a USB cable to access your phone book, map, and more!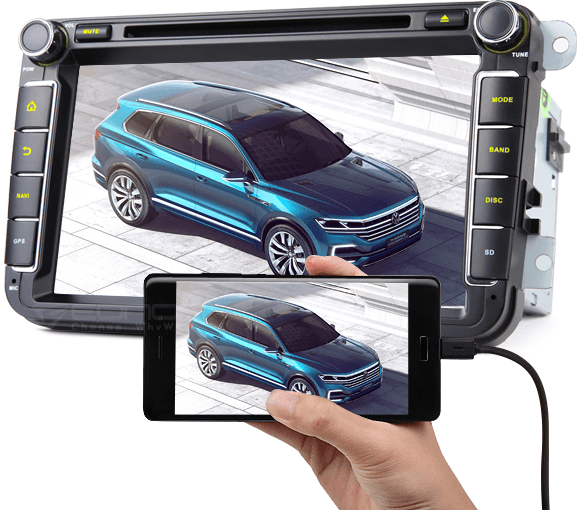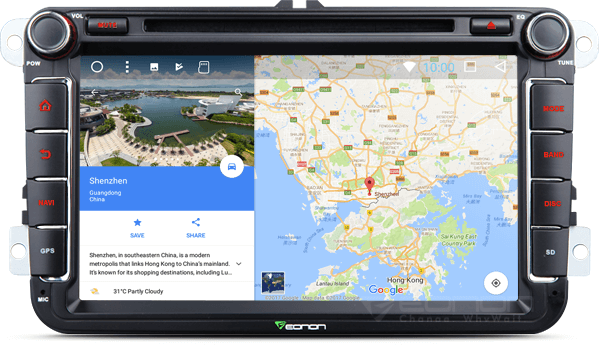 Never Worry About Getting Lost
Navigation can be achieved by using the online, offline map or purchasing a map card. It can quickly run all navigation apps like Google Maps, Waze etc., and offer detailed traffic and route guidance to find the shortest route to your destination.
Keep the Original Car Function
Dual CAN Bus system keeps original car function as shown below after installing the new head unit.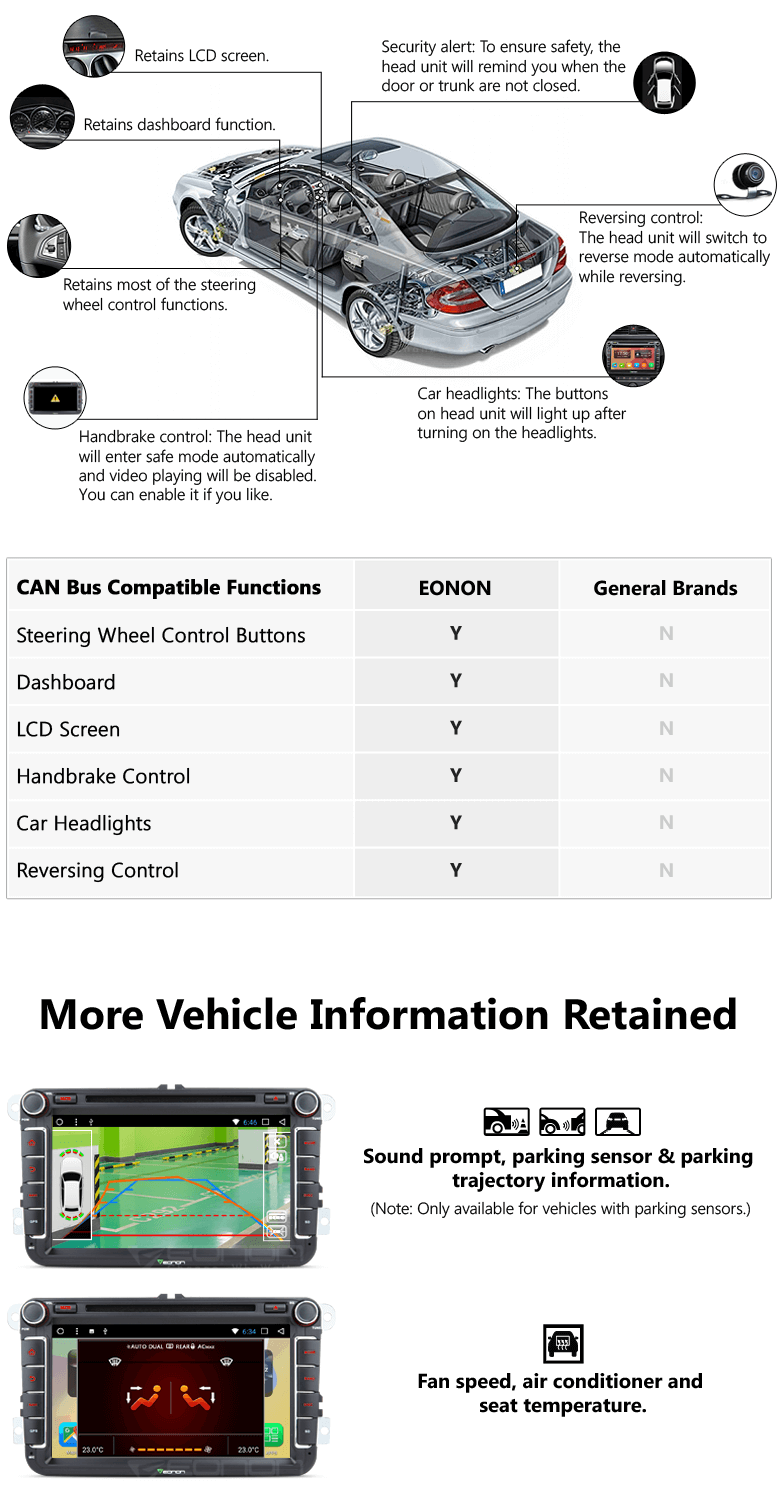 So Real You Can feel It
The 8 inch digital capacitive touchscreen with 1024x600 high resolution makes you feel really standing there on the beach, watching the sun go down. Making scenes more real than ever before.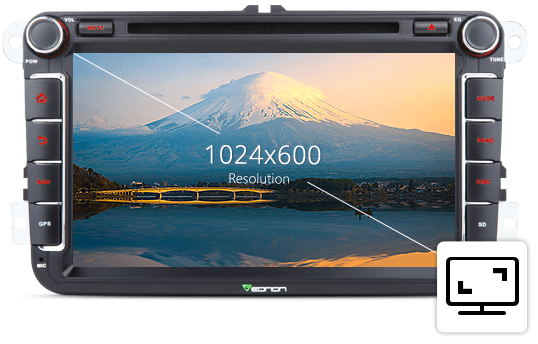 Steering Wheel Control Integration
Compatible with most of the steering wheel control functions. Easy to switch songs, channels and adjust volume to provide you a safer and more enjoyable journey.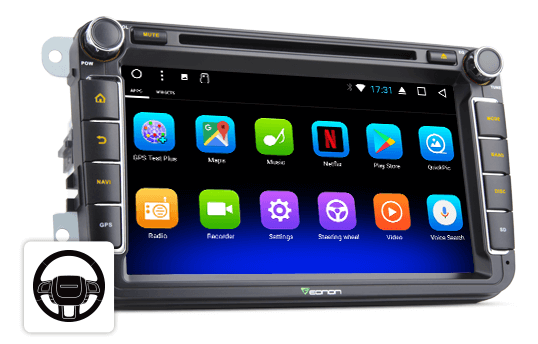 It's All About You
With its many individuation options you can design the interior just the way you want. Whether the screen background, car logo or button color. Create your own style!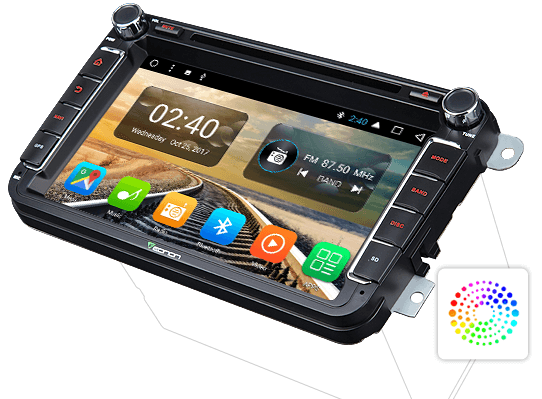 Have a Record of a Car Accident
It not only can effectively avoid false accusations and insurance claims, but also can record the scenery along the way and discover the beauty of life. (Note: Designed for Eonon R0008 USB dashcam, please purchase separately.)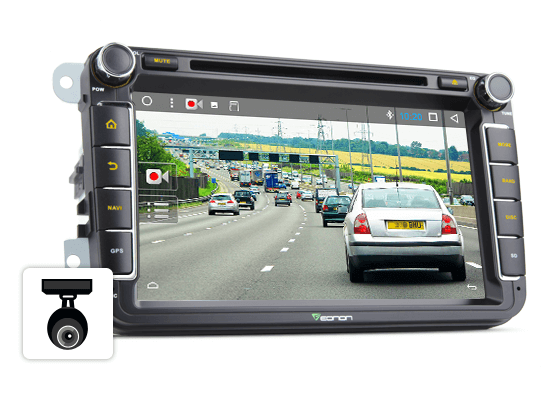 Other Features
54 Station Preset Radio

(36 FM, 18 AM)

EQ Mode

Normal Jazz Pop Classical Rock News Urban Techno

Supports DAB+

(Eonon V0054)

Supports OBD2

(Eonon V0056)

Built-in Dimmer

Day & Night

USB/Micro SD

Supports USB flash drive, MP3 player & Micro SD card with up to 64GB of storage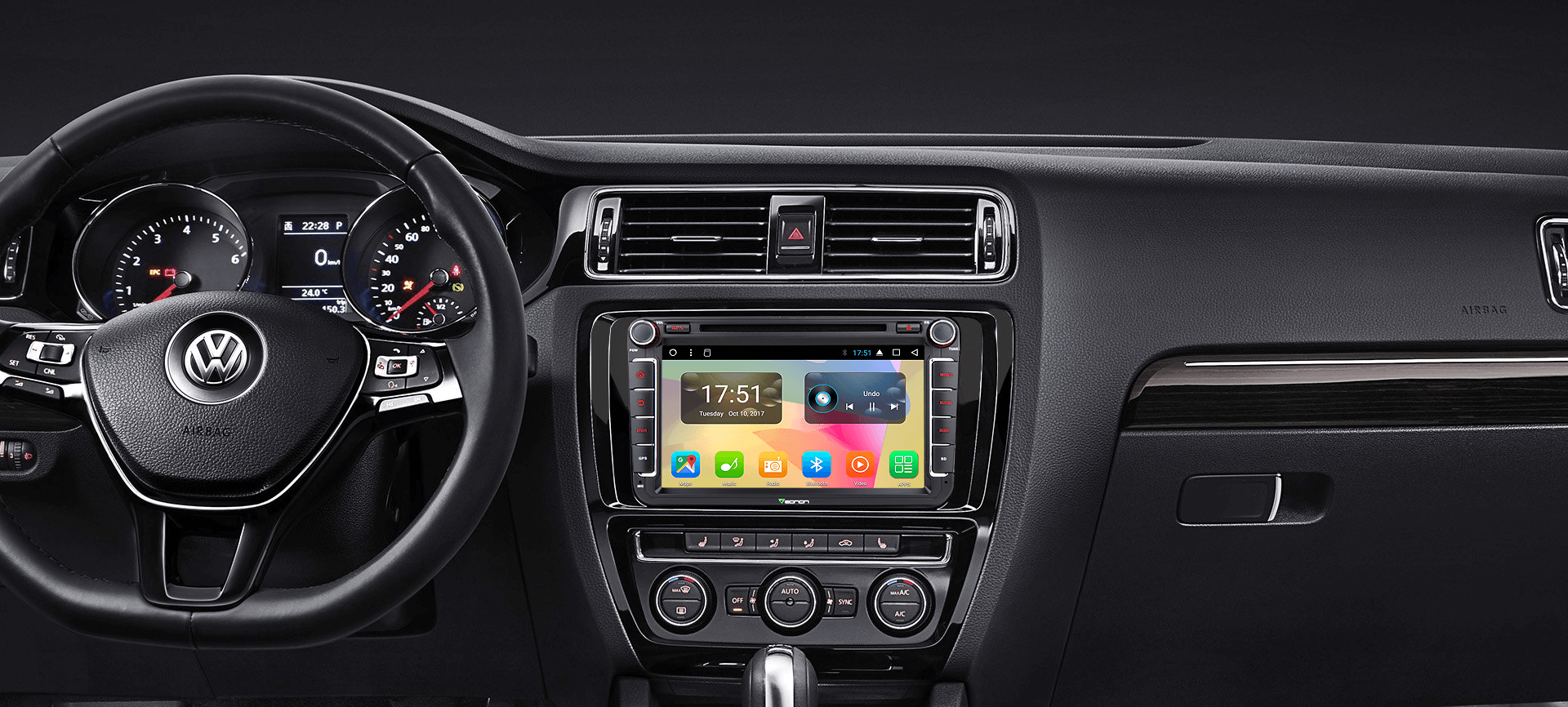 General
Specific car models
Applicable Models: Volkswagen: BORA (2006-2015)/CADDY (2003-2015)/EOS (2006-2015)/GOLF (2007-2012) /JETTA (2006-2015)/LAVIDA (2011-2012)/MAGOTAN (2006-2012)/NEW SHARAN (2010-2013)/ PASSAT (2006-2013)/SAGITAR (2005-2015)/SCIROCCO (2008-2015) /TOURAN (2003-2013)/ TIGUAN (2007-2015)/POLO(2009-2012) Applicable Volkswagen OEM radio models: RCD 210/RCD 310/RNS 310/RNS 315/RCD 510/RNS 510. Inapplicable Volkswagen OEM radio models: RCD 550/RNS 810/RNS 850. SEAT: ALTEA(2004-2013)/LEON(2004-2012)/TOLEDO(2012-2013) SKODA: FABIA(2004-2013)/PRAKTIK(2007-2011)/ROOMSTER(2003-2010)/RAPID(2012-2013)/ SUPERB(2010-2012) - Note: Please confirm the model year, size and shape of the center console panel before purchasing. And consult our customer service first if your car is beyond the scope of application.
Installation type
ISO 2 DIN Size
Gross Weight
3.15 kg
Net Weight
2.20 kg
Power Supply
DC 12V
Max Working Current
15A
Steering Wheel Control Function
Yes
Menu Language
85 kinds of languages, including English/Spanish/French/German/Portuguese/Italian/Russian/Turkish/Norwegian/Polish, etc.
Auto-memory Function
Yes
External MIC Support
Yes
Operation System
Android 7.1
CPU Processor
RK3188 1.6GHz Cortex A9 Octa-Core
RAM
SAMSUNG DDR3, 2GB
Memory
32 GB
Mutual Control Between HU & Phone
Yes (Supports Mutual Control Between Head Unit & Your Android Smart Phone. Supports Screen Mirroring features with iOS DEVICES, but does not support mutual control with them.)
Screen
Type
8 HD digital capacitive touchscreen
Resolution
1024*600WVGA
Touch Screen Function
Yes
Changeable Startup Logo
Supports customize startup logo
Built-In LCD Clock Display Function
Yes
Built-in LED Button Color Options
A variety of LED button colors for your choice
Dynamic Background Pictures
Supports switch dynamic background image and customize the screen background
Image Brightness Adjustable
Yes
Support One Key Screen Off
Yes
DVD
Compatible Format
AVI/DVD/DVD+R/DVD-R/DVD+RW/DVD-RW/MP3/CD/CD-RW/JPEG
Bluetooth
Make and Receive Calls Hands Free
Yes (Compatible with devices with Bluetooth 4.0, including smartphones from Apple, Samsung, HTC, Sony, etc.)
Bluetooth MP3 Player Function
Yes (This function is only compatible with devices supporting Bluetooth Audio Output)
Built-in Microphone
Yes
Support Bluetooth Phonebook Function
Yes
Support Bluetooth Contact Search
Yes
Connect Code
5802 (Name: EONON)
Support Bluetooth Contact Sharing
Yes
OBD-2
Supports most Bluetooth ELM327. (Note: Designed for Eonon V0056 OBD2 diagnostic tool, please purchase it from Eonon online shop.)
TV & Radio
Radio Stations
78 station preset Radio: 54 FM, 24 AM
Built-In RDS Radio Receiver Function
Yes
Radio Frequency Region
China, Europe, Orit, Russia, America1, America2, Japan, Australia
Audio & Video
Max power
4x45W Surround Stereo
EQ (Effect Compensation)
Custom Rock Pop Jazz Classic Flat Voice
Built-in Microphone in the control panel
Yes
Input & Output
RCA Audio/Video Output
Yes
AUX Audio/Video input
Yes
Back Sight Input to Camera
Yes
Built in Amplifier
Yes
USB/SD slot maximum compatibility
USB port/Micro SD card reader Supports USB flash drives and MP3 players with up to 64G of storage, but external hard drives are not supported.
Subwoofer Output
Yes
GPS Antenna Input
Yes
USB/SD Supported Video Formats
Supports AVI, MKV, MP4, WMV, RMVB, MPG...all Android videos formats, Web video and 1080P video decoding
Audio Formats
Supports MP3, WMA, WAV, AC3, OGG, FLAC, Web audio etc.
Picture Formats
Supports JPEG, BMP, PNG,TIFF etc.
3G/WIFI Input
Yes
FR/FL/RR/RL Four Speakers Output
Yes
Built in amplifier FR/FL/RR/RL 4-Channel Audio Output
Yes
Support Video Output from All Modes
Yes
---
We Also Recommend