Stepper Gauge Motor Repair Service for BMW E39 5-Series E53 X5 E38 7-Series Instrument Speedometer Cluster
If you are experiencing the Pixel Loss, Display Lighting Failure and/or Pointer Motor problems with your BMW X5 Speedometer Cluster, it is time to fix it once and for all!! This listing is for the purchase of a Complete Rebuild SERVICE for  your 2000 - 2006 BMW E53 X5,  1996 - 2003 E39 5-Series,  1995 - 2001 E38 7-Series dash cluster. 

This service covers replacement of the entire digital readout (Both top - Mileage, and bottom "Fasten Seat Belts") AND  all (4) Stepper Motors (Fuel Gauge, Temperature Gauge, Speedometer, Tachometer). 
Trust the BEST!! We have over 10 years experience working with these highly-problematic displays and have repaired hundreds since. We only the highest quality replacement parts and processes. Your instrument cluster is programmed to your vehicle which is why we advise having your original equipment repaired back to new at a fraction of the cost of a dealer replacement.  We GUARANTEE our work 100%! Have a question? Send us a message!

We also offer CHROME and SATIN-SILVER gauge rings in the links below. Purchase the rings and we will install for FREE while your cluster is being repaired. 
Typical Problems That Require Our Service:
Have you attempted a DIY pixel repair and damaged the (4) Gauge Pointer Stepper Motors?

Slow movement of Fuel Gauge, Temperature Gauge, Speedometer, Tachometer

No function of Fuel Gauge, Temperature Gauge, Speedometer, Tachometer

Cannot read what your lower LCD says??

Missing or Distorted Pixels


Dark? Burnt out Light Bulbs (5x)

Both LCD GLASS and RIBBON are replaced with brand new parts 


Please Note: If you have pre-existing conditions other than what is listed above, we do not repair them - just the entire lower display.
We have spent years perfecting the this repair process. We install high quality replacement parts that exceed factory specs which is why we can offer such a substantial warranty. Simply plug your cluster back in and enjoy!! You will not find a better deal for this repair service anywhere! If you have taken yours apart prior to sending in for repair, please contact us first. If a repair was attempted and damage resulted to the needles or other electronics/mechanics, we will not fix those issues - We repair only the illuminated center LCD display and back-lighting! Return shipping is through USPS PRIORITY MAIL. Please allow 24-48 hours for turn-around.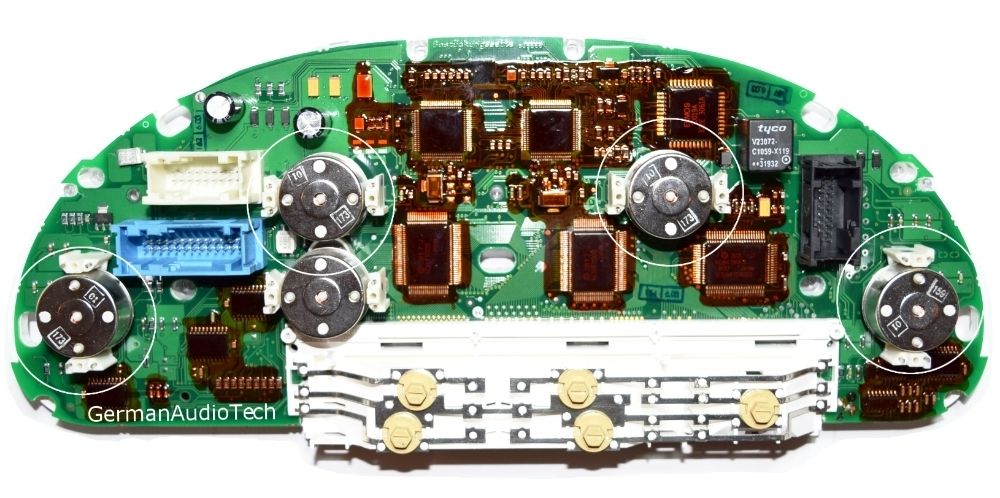 How Does it Work?
It's as Easy as 1, 2, 3!


1..   Click "Buy It Now" to Purchase Service

2..   Simply Remove the 2 Screws holding the cluster in (top)

If you have a tilt-steering wheel, it is easier to lower it to gain clearance for the removal. It will come right out! Requires ~1 minute.
3..   Disconnect plugs. The (3) harnesses (white, black, blue) has an arm that will swing upward when the back 'button' is pushed in softly.
****Please take it securely-packaged to FedEx, UPS, DHL, US Postal Service (USPS), etc. to have it mailed in. Please include a note of symptoms & return mailing address. The plastic front shield is fragile! Please package carefully.
Note: We do not recommend driving your vehicle without a speedometer cluster. Please be patient while your package arrives back to you.
Mailing Address
German Audio Tech
Attn: Repair Dept.
65 Pine Ave., #337
Long Beach, CA 90802
Compatible Applications: 
1995 - 2001  BMW   7-Series:   740i, 740iL, 750i, 750iL, 760iL
1996 - 2003  BMW   5-Series:   528i, 525i, 530i, 540i & M5 (Sedan & Touring)
2000 - 2006  BMW    X5:          3.0, 4.4, 4.6is, 4.8 & X5 M
Want to save time, money and the hassle of visiting the BMW dealership? BUY IT NOW
VERY  Fast, High Quality Service & Expedited Return Shipping
---
We Also Recommend