POINTER STEPPER MOTOR for AUDI TT FUEL or TEMPERATURE GAUGE CLUSTER 2000 - 2006
AUDI TT  CLUSTER GAUGE  POINTER MOTOR
This listing is for the purchase of (1) Brand New Pointer / Stepper Motor for your 2000-2006 AUDI TT Instrument Cluster. If you do not trust yourself in performing your own repair, we strongly recommend that you Click Here to have us quickly repair your part. 
Please Note: This motor will not fit the Tachometer or Speedometer Gauge. Only the Fuel and Temp gauges on top.
We ship World-Wide! All International buyers welcome.
Will Fit the Following Gauges:

Compatible with the following models:
2000 - 2006  AUDI  (TT)   AND QUATTRO
** This auction is for 1 QTY fuel / temp stepper motor.  We also sell the MPH / RPM motors. All four motors should be replaced at once. The cluster must be powered on when you set the fuel and temp needles to 0.  The mph and rpm should be set to slightly below 0 with the cluster off and will raise to 0 when powered on. 

A bad cluster circuit board can also give erratic gauge readings.  If you replace the motor and have the same gauge problem then your problem is the circuit board.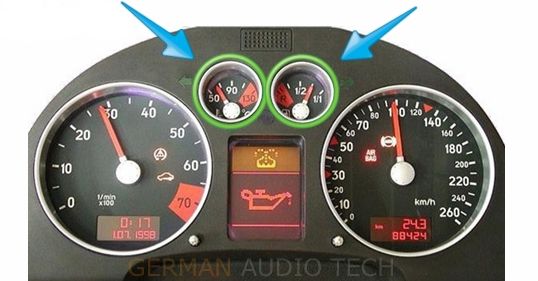 ---
We Also Recommend