iCARSOFT i908 for AUDI VOLKSWAGEN OBD2 DIAGNOSTIC SCANNER TOOL RESET ERASE FAULT CODE
This is your opportunity to purchase (1) Brand New iCARSOFT AUDI and VOLKSWAGEN i908 Diagnostic & Code Reset Tool. Will work on all 1996-2017 OBDII Volkswagen Models. This is a must-have device for all your code scanner, diagnostic, oil and fault reset needs!! With its great presentation and quality of design, it would make a great gift. Device is Easy to use and Simply plugs into your vehicle's OBDII diagnostic port. Comes brand new with: Original packaging, Storage Bag, Adapter Cable to your computer, and Printed Instructions Guide. With this professional grade tool you can save that dreaded trip to the VW dealership, just to be charged a $100/hour+ 'diagnostic service fee'. Know what is wrong with your car prior to a visit to your mechanic, and possibly fix the problem easily yourself. You can clear faults with a simple press of a button! This is a professional grade, quality tool and comes with 24 hour international product support and online updatability. All International Buyers Welcome.
PLEASE NOTE: If you are trying to determine if this tool will perform a specific task for your specific year and model VOLKSWAGEN, please CLICK HERE for PDF Guide.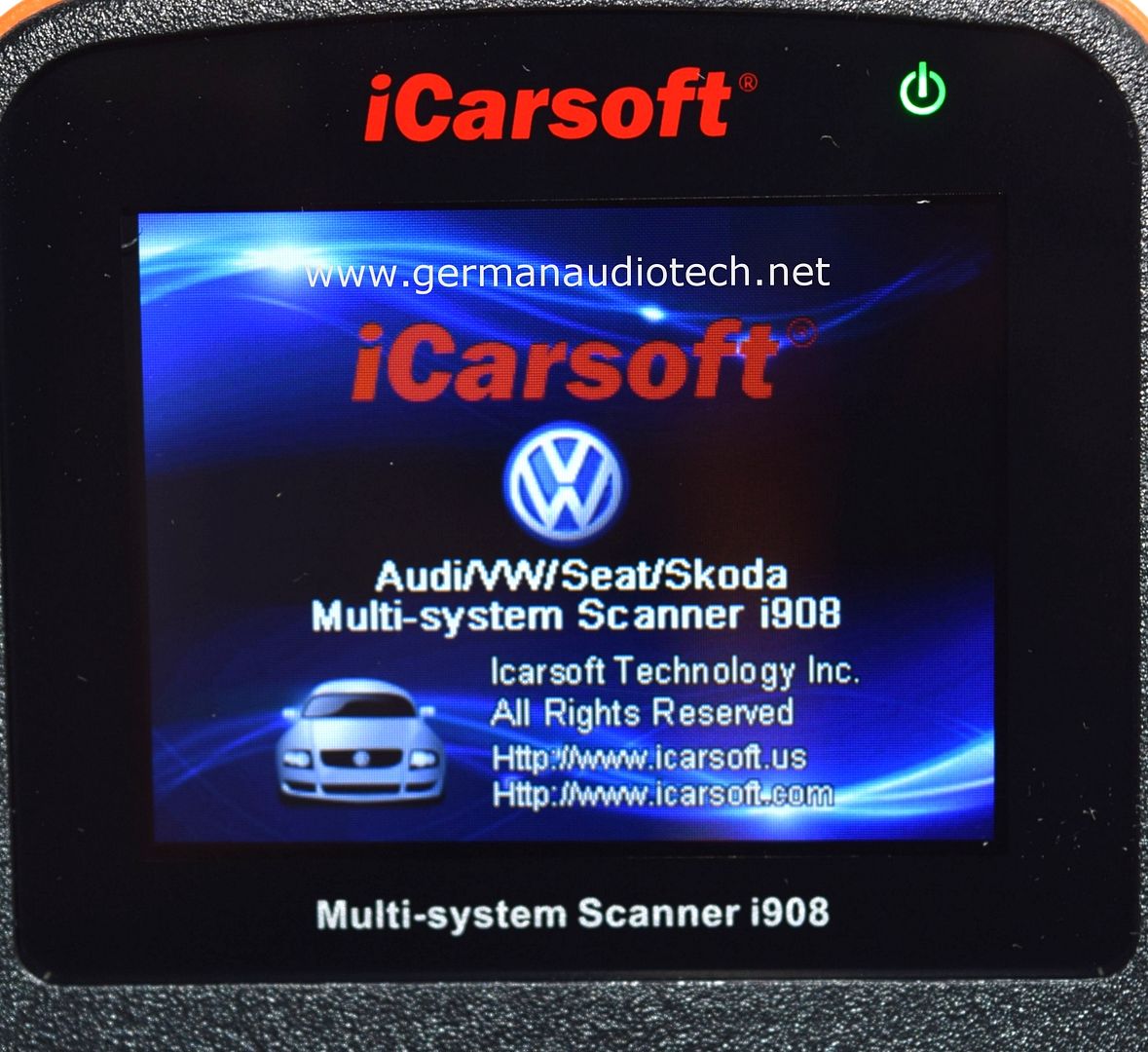 Features for VW/Audi/Skoda/Seat:
•  Read DTCs
•  Clear DTCs
•  Read live data stream
•  Single Brand of all Models ( OBDII-16 DLC )
•  Full system diagnosis
•  Upgrade via USB 2.0
•  Multi-language
Compatibility:

Audi
A1 (from 2011)
A2 (2000-2005)
A3/S3 (1997-2003)
A3/S3/RS3/Cabrio (2004-2013)
A3/S3/Cabrio Facelift (2010-2013)
A3/S3/Cabrio (from 2013)
A4/S4 B5 (1996-2001)
A4/S4 B6/B7 (2001-2008)
A4/S4 B8 (from 2008)
A4/S4 B8 Facelift (from 2010)
Cabrio B4 (1996-2000)
Cabrio B6/B7 (2003-2009)
TT (1999-2007)
TT/TTS/TTRS (from 2007)
TT/TTRS Facelift (from 2010)
A5/S5/RS5 (from 2008)
A5/S5/RS5 Facelift (from 2010)
A5/S5/RS5 Cab (from 2009)
A5/S5 Cab Facelift (from 2010)
100/A6 C4 (1996-1997)
A6 C5 (includes Allroad)(1998-2006)
A6 C6 (includes Allroad)(2005-2011)
A6 C6 (includes Allroad) Facelift (2010-2011)
A6 (from 2011)
A6 C7 Facelift (includes Allroad)(from 2011)
A7 (from 2011)
A7 Facelift (from 2011)
A8 D2 (1996-2003)
A8 D3 (2003-2010)
A8 D3 Facelift (2010)
A8 D4 (from 2010)
A8 D4 Facelift (from 2010)
Q3 (from 2012)
Q5 (from 2009)
Q5 Facelift (from 2010)
Q7 (from 2007)
Q7 Facelift (from 2010)
R8 (from 2007)
R8 Facelift (from 2010)
Volkswagen
Amarok (from 2010)
Caddy (1996-2010)
Golf Cabrio (1996-2012)
EOS (from 2006)
EOS Facelift (from 2010)
FOX (from 2004)
Golf Citi (bis 2009)
Golf/Vento III (1996-1999)
Golf/Bora IV (1998-2006)
Jetta IV (1998-2014)
Golf/Jetta V (2004-2009)
Golf/Jetta VI (2009-2013)
Golf/Jetta Facelift (2010-2013)
Golf/Jetta VII (from 2013)
Golf Variant VII (from 2014)
New Beetle (1998-2010)
New Beetle Facelift (2010)
New Beetle (1999-2010)
New Beetle Cab (2003-2010)
New Beetle Cab Facelift (2010)
Beetle Cab (from 2013)
Beetle Cab Facelift (from 2013)
New Bora (from 2008)
Lupo (1998-2006)
Passat B3 (bis 1994)
Passat B4 (1996-1997)
Passat B5 (1997-2005)
Passat B6 (2005-2010)
Passat B6 Facelift (2010)
Passat B7 (from 2011)
Passat NMS Facelift (from 2012)
Passat CC (from 2009)
Passat CC Facelift (from 2010)
Phaeton (2002-2006)
Polo (1996-2002) (2002-2010)
Polo Classic (1996-2010)
Polo Vivo (from 2010)
Scirocco (from 2009)
Sharan I (1996-2010)
Sharan (from 2011)
Tiguan (from2008)
Tiguan Facelift (from 2010)
Touareg (2003-11/2006)
Touareg (12/2006-2011)
Touareg Facelift (2010-2011)
Touareg (from 2011)
Touareg Facelift (from 2011)
Touran (from 2003)
Transporter/Multivan (1996-2010)
Up (from 2012)
Seat
Leon (1996-2010)
Ibiza (1996-2007)
Alhambra(1996-2007)
Altea (1996-2010)
Arosa (1996-2009)
Cordoba (1996-2009)
Toledo (1996-2005)
Skoda
Citigo (from 2012)
Fabia I (1996-2008)
Fabia II (2007-2010)
Fabia (from 2011)
Felicia (1996-2001)
Octavia I (1997-2011)
Octavia II (2004-2013)
Octavia (from 2013)
Rapid (from 2013)
Roomster (2006-2010)
Roomster (from 2011)
Superb I (2002-2008)
Superb II (from 2008)
Yeti (from 2010)
Eight Super Advantages:
1. The fastest full color, 2.8" TFT 320*240 pixels 
2. USB 2.0 High Speed Upgrade
3. Support Multi-language
4. Read & Clear DTCs
5. Read Date Stream
6. Silicone keys with great customer experience
7. Full System Diagnosis
8. Diagnose Single Brand of all Models ( OBDII-16 DLC )


OBDII function:
1. Read Codes
2. Erase Codes
3. I/M Readiness -- I/M Readiness indicates whether or not the various emissions-related systems on the vehicle are operating properly and are ready for Inspection and Maintenance testing.
4. Data Stream
5. Freeze Frame -- When an emission-related fault occurs, certain vehicle conditions are recorded by the on-board computer. This information is referred to as freeze frame data. Freeze Data is a snapshot of the operating conditions at the time of an emission-related fault.
6. O2 Sensor Test -- This option allows retrieval and viewing of O2 sensor test results for most recently performed tests from the vehicle's on-board computer.
7. On-Board Monitoring -- This function can be utilized to read the results of on-board diagnostic monitoring tests for specific components/systems.
8. Evap System Test -- The EVAP test function lets you initiate a leak test for the vehicle's EVAP system. Before using the system test function, refer to the vehicle's service repair manual to determine the procedures necessary to stop the test.
9. Vehicle Information -- The option displays the vehicle identification number (VIN), the calibration verification number (CVN), and other information of the test vehicle.
10.Retrieve generic (P0, P2, P3, and U0), manufacturer specific (P1, P3, and U1) codes and pending codes
11.Turn off Check Engine Light (MIL), clear codes and reset monitors
12. Read live PCM datastream 
13. Support CAN (Controller Area Network) and all other
14.Multilingual menu and DTC definitions- English, Spanish, and German, etc
15.Read pending DTCs
16.Read permanent DTCs
17. DTCs search
18. Supports all the OBDII/EOBD test modes include: CAN, ISO9141, KWP2000, J1850 VPW and J1850 PWM.
19. Works on all 2001 and later OBDII compliant PETROL European vehicles
20. Works on all 2004 and later OBDII compliant DIESEL European vehicles
21. Works on all 1996 and later OBDII compliant US and Asian vehicles
22. View & Graph Live Data in Color Graphing and blazing fast refresh rate for better graphing and live data readings.
23. Comprehensive Help, Including OBD Parameter, Mode Explanations & More
Vehicles produced after 2007:
01 Engine electronics
02 Transmission Electronics
08 AC/Heating electronics
25 Immobilizer
15 Airbags

17 Instrument Cluster
System coverage:
01 Engine electronics
03 Brake Electronics
15 Airbags
25 Immobilizer
46 Central Control Module
56 Radio
02 Transmission Electronics
08 AC/Heating electronics
09 Electronic Ctrl Electronics
10 Parking Assist System 2
16 Steering Wheel Electronics
17 Instrument Cluster
18 Aux heating
19 Gateway data bus
37 Navigation
3D Special Function
42 DRIVER‐DOOR ELECT.
44 Steering assistance
52 PASSE.‐DOOR ELECT.
55 Headlight range control
69 TRAILER FUNCTION
76 Parking aid
77 TELEPHONE
7D Auxiliary Heater
35 Central Locking
1C Vehicle Position Detection
26 Electric roof control
2E Media player position 3
47 Soundsystem
65 Tyre pressure monitoring
62 LR‐DOOR ELECTRONI.
63 DRVS BOARDING ASS1
72 RR‐DOOR ELECTRONI.
73 DRVS BOARDING ASS2
76 Parking aid
41 Diesel pump electronics
22 4WD Electronics
29 Left light control
36 Driver`s side seat adj.
39 Right light control
57 TV‐TUNER
75 Emergency call module
0F Radio Tuner‐Digital
4F Electronic central electric II
13 Distance control
14 Wheel damping electronics
54 Rear spoiler
45 Interior Monitoring
05 ACCESS & PERMISSI.
53 Parking Brake
5D Opertion
07 DISPLAY‐/CNTL UNIT
23 BRAKER BOOSTER
27 DIS./CTL UNIT REAR
28 Climate Control Unit Rear
34 Self leveling suspension
38 ROOF ELECTRONICS
66 Seat‐/mirror adjust.
68 WIPER ELECTRONICS
71 Battery charger
64 Stabilizers
32 Locking Electronisc
3C Lane Departure Assistance System
6D Electronic Equipment of Trunk Lid
6E Roof Display/Control Head
0D Sliding Door Left
78 SLIDING DOOR

2D Voice Amplification
System coverage: 
01 Engine electronics 
02 Transmission Electronics 
03 Brake Electronics
08 AC/Heating electronics 
09 Electronic Ctrl Electronics 
10 Parking Assist System 2
15 Airbags 
16 Steering Wheel Electronics 
17 Instrument Cluster 
18 Aux heating 
19 Gateway data bus 
22 4WD Electronics 
25 Immobilizer 
36 Driver`s side seat adj. 
37 Navigation 
3D Special Function 
42 DRIVER‐DOOR ELECT. 
44 Steering assistance 
46 Central Control Module 
47 Soundsystem 
52 PASSE.‐DOOR ELECT. 
55 Headlight range control 
56 Radio
System and Vehicle coverage for SKODA: 
Vehicle coverage:
Citigo ( 2012 and later )
Fabia I ( 1996 to 2008 )
Fabia II ( 2007 to 2010 )
Fabia ( 2011 and later )
Felicia ( 1995 to 2001 )
Octavia I ( 1997 to 2011 )
Octavia II ( 2004 to 2013 )
Octavia ( 2013 and later )
Rapid ( 2013 and later )
Roomster ( 2006 to 2011 )
Superb I  ( 2002 to 2008 )
Superb II ( 2008 and later )
Yeti ( 2010 and later )
System and Vehicle coverage for Audi and Seat:
Vehicles produced before 2007:
01 Engine electronics
02 Transmission Electronics
03 Brake Electronics
08 AC/Heating electronics
25 Immobilizer
34 Self leveling suspension
15 Airbags
16 Steering Wheel Electronics
44 Steering assistance
35 Central Locking
17 Instrument Cluster
19 Gateway data bus
37 Navigation
46 Central Control Module
76 09 Electronic Ctrl Electronics
Parking aid
55 Headlight range control
56 Radio
65 Tyre pressure monitoring
05 ACCESS & PERMISSI.
07 DISPLAY‐/CNTL UNIT
53 Parking Brake
22 4WD Electronics
26 Electric roof control
29 Left light control
39 Right light control
54 Rear spoiler
75 Emergency call module
42 DRIVER‐DOOR ELECT.
52 PASSE.‐DOOR ELECT.
62 LR‐DOOR ELECTRONI.
72 RR‐DOOR ELECTRONI.
0E Media player position 1
4F Electronic central electric II
3C Lane Departure Assistance System
5F Information Electronic Equipment 1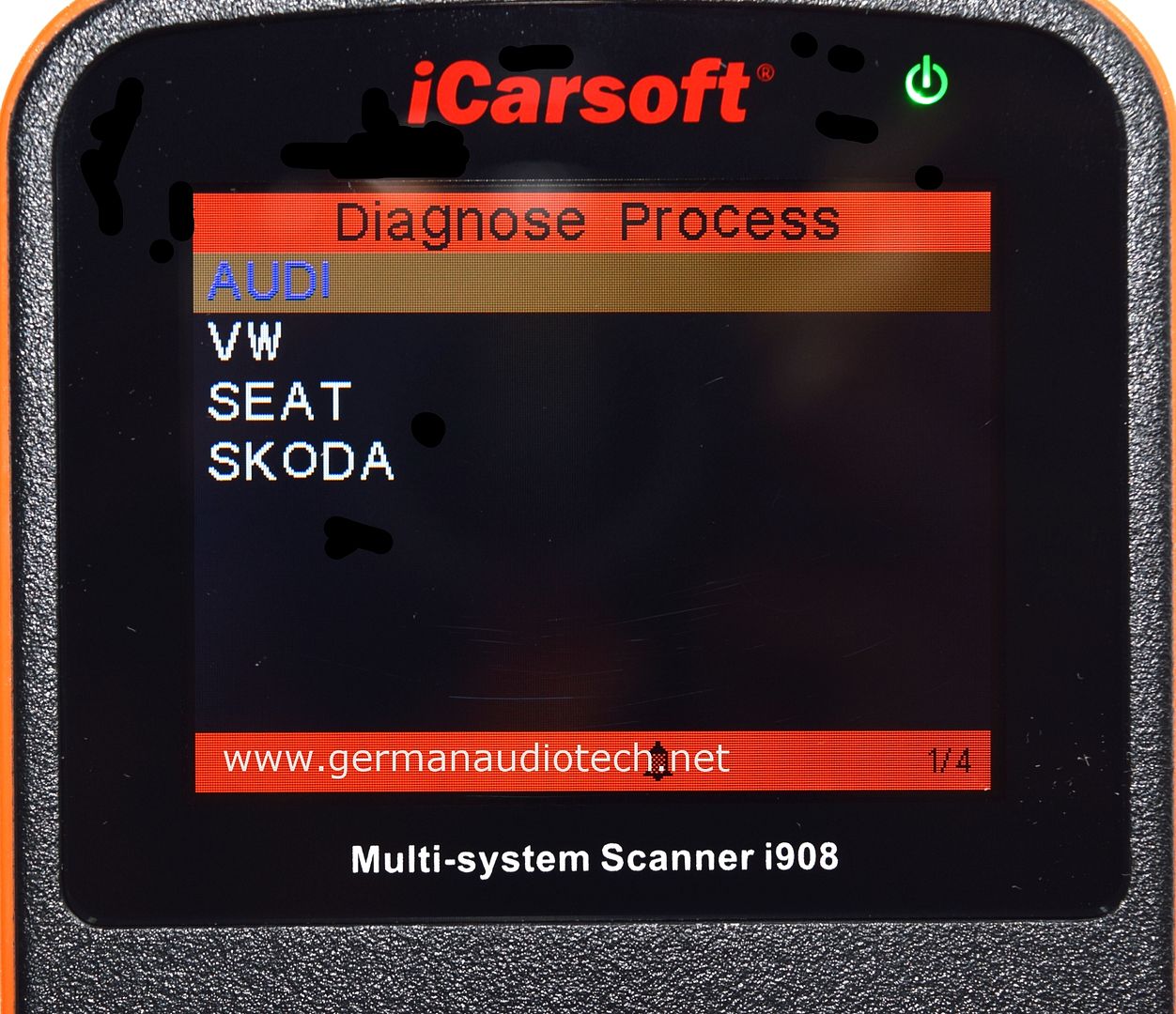 ---
We Also Recommend