AUDI A4 S4 A6 S6 A8 TT 1998-2010 Bluetooth Hands Free Car Adapter Kit
Compatibility:
Audi A2 1999-2005
Audi A3 2003-2006
Audi A3 2007-2009 (no MMI, no SAT)
Audi A4 1998-2005
Audi A4 2006-2008 (NO MMI)
Audi A4 Quattro 1998-2005
Audi A4 Quattro 2006-2008 (NO MMI)
Audi A6 2001-2004
Audi A6 Quattro 2001-2004
Audi A8 1999-2002
Audi A8 Quattro 1999-2002
Audi Allroad Quattro 2001-2004
Audi RS4 2007-2008 (NO MMI)
Audi S4 2000-2005
Audi S4 2006-2008 (NO MMI)
Audi S6 2002-2003
Audi S8 2001-2002
Audi TT 2000-2008 (NO MMI)
Audi TT Quattro 2000-2008 (NO MMI)
Integrated Bluetooth Car Interfaceadds Hands Free Calling and Wireless Audio to the original factory stereo of many cars. The system comes with built-in Bluetooth and microphone. GROM-BT3 module has two extension ports that can be used for Aux-In, HD Radio and iPod or iPhone integration with optional cables that are sold separately. 

Bluetooth functionality: Use your phone in the car hands free (HFP), stream your MP3 music from your phone to the factory stereo via Bluetooth Audio playback (A2DP), control your MP3 music with the car stereo or steering wheel controls via Bluetooth wireless audio control (AVRCP). Bluetooth compatibility: all Bluetooth capable smartphones, including latest Galaxy S series and iPhone. 

Optional AUX-IN cable (sold separately): Add 5FT 3.5mm audio AUX cable for direct audio connection.The 5V USB charging connector will charge most of the Smarphones, including iPhone and Android. USB port on the auxiliary cable 35USB is for charging only, it will not let you to play the music directly from USB stick or Android phone. If you want to play the music from USB stick or integrate Android phone - please consider GROM USB MP3 Kit 

Optional HD Radio Tuner add-on (sold separately): Get HD FM Radio stations from your factory stereo. GROM-HDR1 HD Radio tuner improves the sound quality of local FM stations and delivers clear and bold sound. Adds access to the HD FM sub-stations for more music choices. Check out the HD Radio Tuner and Antenna Dongle 

DashLinQ Android Car Mode App available at Google Play Store It becomes easy and safe to use your phone while driving for music, phone calls and navigation. Words great with GROM-BT3 Bluetooth car kit. For more information go to DashLinQ page 


Car Smartphone Mounts: Looking for the ways to safely and comfortably use your smartphone in the car? Check out the smartphone in-car mounts available at out store here >>>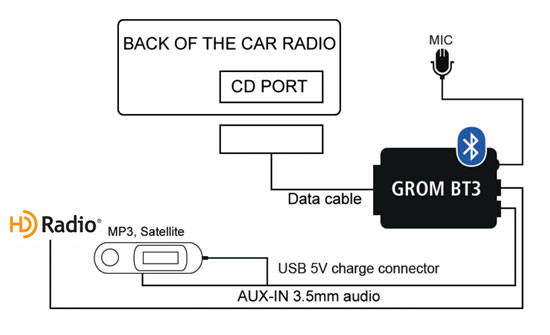 Demo video of GROM-BT3 Bluetooth Car Kit and Toyota stereo:
 


In most AUDI 98-08 vehicles, a solid 3-in-1 factory connector blocks access to the CD changer port.
The factory connector must be removed to gain access to the CD changer port. If that is your case we included for you to use AUDS harness that accepts the factory connector and plugs into the radio, leaving the CD changer port open for proper use of any interface adapter or auxiliary input converter. 
Specs
Operating Temperature: -40C - +85 C (-50F - 200 F)
Operating current: ~50mA 
Standby current: ~1mA 
SN Ratio: 90dB
DAC resolution: NA 
Distortion: < 0.01%
Dimensions: W / H / D - 60* 73 * 20 mm
Weight: 30g 
Enclosure: ABS Plastic
Package Contents
- Car stereo adapter with built-in Bluetooth
- Vehicle specific harness
- Omni-directional microphone with swivel mount 10FT
- User manual

Optional accessories and upgrades - sold separately:
- MiniDin - 3.5 male audio cable connector
- HD Radio Tuner and Antenna - GROM-HDR1
- Flush Mount AUX-In mounting cable 
---
We Also Recommend