Upgrade Instructions for BMW E36 3-Series 18-Button On Board Computer
BMW E36 OBC UPGRADE INSTRUCTIONS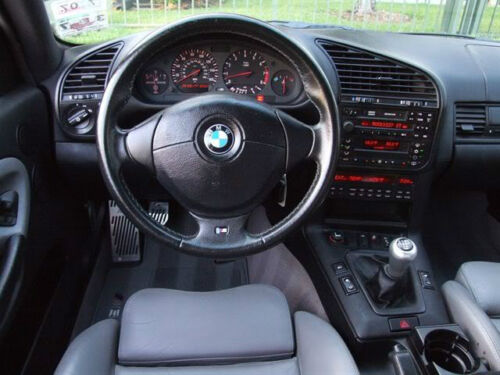 Below is the guide for installing the upgrade Siemens 18-Button On Board Computer (OBC) into a 1992-1999 BMW 3-Series and M3. 
Parts Required:
(1) E36 18-Button On Board Computer
(2) Wiring Harness Pigtails (Black and White)
(1) Spindle of 22 gauge wire
Quick Disconnectors or wire crimps.
Instruction Guide Links
Jeremy Reyna's E36 Upgrade Tutorial
Installation Process
I successfully swapped out my 11-Button OBC for an 18-Button in my 98 M3, and it wasn't that hard. All functions work, including the hidden ones. Anyone with moderate mechanical skills can complete this conversion; I give it a two-1/2 wrench out of five difficulty level. Much quicker and a little easier than installing VDO gauges. I'm an idiot, so it couldn't have been that tough. Special recognition should be given to "BiMmEr JoN" who made the original OBC Conversion post on Bimmerforums (http://www.bimmerforums.com/forum/s...c%2A+conversion) and whose collaboration made my retrofit possible.
The conversion isn't specifically targeted to only early E36s. In fact, some of the OBC functions won't work on pre-94 E36s because they don't have the ZKE type security system. The 18 button OBC was an option for all year E36s that most, but not all, buyers requested. The conversion is targeted for BMWs that didn't get the option.
I wanted a full OBC when I was shopping for an M3. When I finally found a used one that wasn't thrashed, I was very disappointed that it only had the enhanced clock OBC. What can I say? I love gadgets. When I started researching the possibility of converting a full OBC into my Bimmer, everything I read said either: "a swap is not possible, buy a car with it installed", or, "you can retrofit an 18-Button OBC, but it will require you to tear your interior apart, install sensors, and run long runs of wire...it is not worth the hassle". Wrong! Wrong! Wrong! This is how I did it.
First, I have to note a few disclaimers:
1. This procedure worked on my 98 M3. There is no guarantee that it will work on your BMW. The Bentley manual notes two E36 OBC diagrams: 1992-1997 (non-318ti) and 1998 (non-318ti). The 1992-1997 diagram is slightly different. Also, the ZKE IV wasn't available until 1994. However, you should be able to modify these instructions to make it work on your car.
2. In the interest of brevity, I am assuming that you know, or will be able to get instructions to remove:
OBC
OPTIONAL: Airbag and Steering Wheel (you can really hurt yourself if you don't follow safety procedures) YOU DO NOT HAVE TO WIRE TO TURN SIGNAL STALK!
Instrument Cluster
Glove Box
I am also assuming that you will be able to figure out some sub-procedures that I will not mention, but should be obvious.
As "BiMmEr JoN" noted in his post, you will need a working 18-Button OBC and the white X1071 connector that the 11-Button OBC doesn't have. Also get an OBC controller turn signal stalk if you want to control the OBC with it. I ordered my OBC and connectors from an import salvage yard over the phone. I strongly recommend that you use a Bentley Manual. Even though some of the electrical diagrams are not perfect, it will pay for itself many times over in time saved.
You must be familiar with the naming conventions of the connectors used in this retrofit. The new OBC uses two connectors. The black connector is called X1070. That is the connector that the old 11-Button OBC used. The white connector is called X1071. That is the new connector that you should have got with your new OBC. The Instrument Cluster has two connectors. The white connector is called X16 and the blue connector is called X17.
These are the steps for retrofitting the OBC. It does not necessarily have to be in this order. Refer to the attached diagram labeled "18-Button OBC Retrofit Wiring Diagram".
Remove old OBC, Steering Wheel, Instrument Cluster, and dashboard.
Remove the two connectors from the back of the Instrument Cluster.
Tap a fresh wire into the white/gray (WHT/GRY) wire on Pin 10 of connector X17 and run it to the white/gray wire coming out of Pin 9 of X1071.
Tap a fresh wire into the white/violet (WHT/VIO) wire on X16 and run it to the white/violet wire coming out of Pin 5 of X1071. Tap a fresh wire into the white/yellow (WHT/YEL) wire on X16 and run it to the white/yellow wire coming out of Pin 7 of X1071.
Remove the X16connector cover to reveal the metal pins of the connector. You must figure out a way to install a new pin into the vacant Pin 21 slot. I went to the local BMW dealership and browsed their connector bins until I found a male pin connector that I could modify to work. I soldiered a fresh wire onto the pin and set the pin into the vacant Pin 21 slot in the X16 connector. I then ran this new wire to the white/black wire coming out of Pin 6 of X1071.
Find the ZKE IV Control Module behind the glove box. The Bentley manual will help you find it. Fabricate a pin to fit into the vacant Pin 15 of thisconnector. I fabricated this pin from a blue Butt Connector. Run a fresh wire from Pin 15 of the ZKE IV to the black/green (BLK/GRN) wire coming out of Pin 1 of X1071.
Install the turn signal stalk. Tap into the brown/red wire of the new turn signal stalk and run it to the brown/red wire of Pin 4 of X1071.
Tap into the brown (BRN) wire coming from Pin 17 of connector X1070 and run it to the brown wire of Pin 13 of X1071.
Tap into the red/yellow (RED/YEL) wire of Pin 18 of X1070 and run it to the red/yellow wire of Pin 8 of X1071.
Put everything back together. Connect the two connectors into your new OBC. Keep your fingers crossed, everything should work.
What do all the new wires do? I'm not certain, but based upon my review of the Bentley diagrams, my guesses are indicted below. Perhaps it may help trouble-shoot a retrofit that isn't cooperating. But like I said, I'm an idiot, so trust your judgement and a good wiring diagram.
White/Gray wire: connects OBC to speedometer sensor
White/Violet and White/Yellow wires: connects OBC to data link system. This system integrates most of the electronic boxes such as ABS, Cruise Control, EWS, ZKE, DME, OBC, etc.
White/black wire: connects OBC to gas gauge
Black/Green: connects OBC to AWS anti-theft device
Brown/Red: grounds OBC for turn signal stalk activated menu display
Brown: Ground
Red/Yellow: Power
Good luck! And don't listen to people who say it can't be done. They don't know what they're talking about.
Quoted from Pelican Parts.com